Love walks in the Peak District? Your help is needed to get rid of the damaging Himalayan Balsam Plant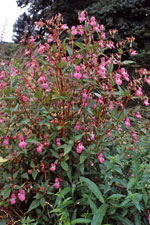 Volunteer walkers are being sought in the Peak District to help rid the Park's river-banks of an invading plant species, Himalayan Balsam.
The Himalayan Balsam plant (Impatiens glandulifera) was introduced into the UK (from the Himalayas!) as a garden plant in the early 19th century but soon 'escaped' to grow in the wild throughout the British Isles. A relative of the Busy Lizzie, it thrives in low light and grows vigorously to heights of 2-3 metres often on river banks and on waste-land.
Because of its height and rapid growth, it stops light from getting to other shorter plants and also competes with them for the attention of pollinating insects. For this reason, the Himalayan Balsam plant is a major threat to native vegetation. As well it stops the growth of grasses whose roots bind soil so it also contributes to the erosion of river banks and has a big overall impact on other wildlife that depends on a diverse plant environment.
The Himalayan Balsam has a very efficient propagation system - each plant produces upwards of 800 seeds which are spread several metres by an 'exploding' seed-box. Obviously, seeds from river-bank plants are spread even further afield in water.
The simplest, non-chemical method of getting rid of this pesky weed is to cut or pull up the plants by hand. For this reason, many wildlife/conservaton agencies organise 'Balsam bashing' work parties.
There is one such scheme being organised by the Peak District National Park Authority, the Derbyshire Wildlife Trust and Trent Rivers Trust running throughout June and July.
Peak District National Park ecologist Frances Horsford said:
"We need to get rid of it in June, July and August before it seeds."
"Each plant produces up to 800 seeds in pods that 'explode' on touch, catapulting the seed up to seven metres."
"But, in the autumn it dies back leaving bare banks."
"We'd be very grateful for people's help before it's too late."
Volunteer days on the Derwent are 10am-3pm, Sunday July 11, Sat July 17 and Sunday July 25, meeting near Calver crossroads on A623, by the playing fields (opposite Peaklander Footwear). Gloves, goggles and drinks are provided, bring wellies and refreshments. Children must be with an adult, and no dogs. To check details, telephone 01433 631405.
For news of other volunteer days, contact Derbyshire Wildlife Trust on 01773 881188.
---
The views expressed by contributors to this discussion are not necessarily those held by go4awalk.com.
Add your comment to THIS article | Start a NEW Discussion
---
---