GPS enabled sheep - to flock or not to flock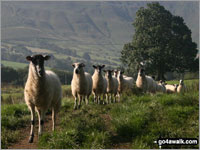 It's difficult to go walking near farmland or over fells and not encounter sheep at some time during the day. If like me you've often idly wondered if there's any rationale behind their apparently random wanderings, then this work by scientists from the Royal Veterinary College, University of Cambridge and University College London may be interesting.
In this study, sheep (plus a specially trained sheepdog) were each fitted with a backpack which held a gps device. The dog then herded the sheep towards an open gate on a number of occasions as the relative position of the dog and each sheep was monitored as it changed throughout the trial.
The data collected showed that when the dog approached within 70 metres, each sheep would try to bury itself within the centre of the flock where presumably the perceived risk is less because those left on the outside will fall victim first to the 'predator' first - the sheep dog in this case.
These findings support a theory first developed some 40 years ago by evolutionary biologist Bill Hamilton - however until now it's been difficult to gather data to support it. The gps technology used in this study has enabled scientists to track very accurately the animals in real time so actually demonstrating this 'selfish herd' behaviour.
An interesting use of gps technology, this study is part of a wider work looking at the progress of neurological disorders in sheep (and potentially humans) as explained by Professor Jenny Morton from the University of Cambridge, co-author of the study:
"Sheep must be attuned to their neighbours' reactions to be able to flock like this. "
"We are now using our approach to understand the breakdown of group behaviours that may occur when sheep are injured, ill, or have diseases. "
"Having an understanding of normal behaviour means that changes in behaviour can be linked to the progress of neurological diseases such as Huntington's disease."
For more information visit University of Cambridge
---
"This all now makes sense! Many years ago, four of us were walking in the late evening in Devon and came above a field of sheep down to our right. For some reason I sharply whistled twice and the scattered sheep all began running to the centre of the field where they formed a perfect circle. My friends were very impressed. I have never repeated the same trick since, but it is great memory."
Stephen Andrews, Oxford
---
The views expressed by contributors to this discussion are not necessarily those held by go4awalk.com.
Add your comment to THIS article | Start a NEW Discussion
---

---