Outrage at destruction of goshawk nest in the Derwent Valley - can you help?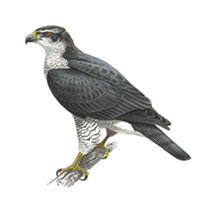 It is difficult to comprehend what motivates people do things like this but - again - birds of prey are being wantonly harmed in the Peak District National Park.
The latest in what is apparently a long-running series of attacks concerns the destruction of a goshawk nest in the Derwent Valley.
Mark Thomas, investigations officer with the RSPB, said: "Once again we're faced with the destruction of birds of prey in Britain's most visited national park.
"The sight of goshawk eggs smashed, only days from hatching, lying on the forest floor is a heart-breaking sight and proves that this bird is being systematically wiped out in the north of the Peak District."
Anyone with information on this incident is urged to to contact the Derbyshire Police immediately on 101 or call Crimestoppers anonymously on 0800 555111.
The RSPB is offering a reward of £1000 for information leading to a conviction.
For more information visit the RSPB.
---
The views expressed by contributors to this discussion are not necessarily those held by go4awalk.com.
Add your comment to THIS article | Start a NEW Discussion
---

---