Phytophthora - the plant destroyer threatening our forests, woodlands and heathland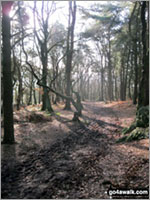 Walking through woodland or over heathland covered in the purple of late summer flowers are some of the great joys experienced by visitors to the UK countryside. But there's a real risk that this could cease to be an option in many parts of the UK. This is because of the damage being done by by two fungus-like plant pathogens - Phytophthora ramorum and Phytophthora kernoviae.
These pathogens are thought to have first entered the UK within the last ten to twenty years - probably via plant imports. Symptoms were first noted in woodland in SW England but since then the infection has spread to Wales, Scotland and Ireland. During 2011 the problem had so worsened that over 3 million Larch trees were felled in an attempt to curtail the spread. Infections have also been found in the common heathland plant, Bilberry - a very concerning development.
Infection is spread by the spores of these organisms, which multiply prolifically and are spread by wind, rain water, plant movements ... and are also carried on footwear, bicycles, tools etc. Once infected, trees and plants exhibit wilting, leaf blackening, bark lesions and slowly die.
There is concern that unless action is taken these pathogens will have a dire effect on our forest, woodlands and heathlands ultimately resulting in a significant loss of habitat with widespread effects on wildlife but also on leisure and tourism. For this reason, DEFRA together with the Food & Environment Research Agency (FERA) and the Forestry Commission have a large containment and eradication programme in place.
It's clear that by adopting simple biosecurity measures we can all help in stopping the spread of these devastating pathogens. For walkers even something as simple as cleaning boots after each(!?) walk to make sure you're not inadvertently spreading the pathogen could really make a difference.
For more information from The Forestry Commission
---
"Hi From Australia WE also have a terrible problem with one of the phytophthora pathogens - in our case cinnamon fungus, which is an introduced soil and water born pathogen that is devastating our native grass tree populations. Thought to have arrived in Australia in the 1930's. the fungus prevents the root tips from absorbing water, which in Australia's arid climate, is devastating, and the grass trees gradually rot away to nothing - this is particularly heartbreaking for this species, as they only grow 1cm a year, and it is not uncommon for them to reach heights of 2 metres or more - to see them destroyed so utterly is just terrible. I can't urge people enough to do what they can as early as possible to help prevent the spread of this disease - so using foot hygiene stations (where available) and where not, thoroughly cleaning dirt off your shoes and poles, and keeping the made tracks, is absolutely critical."
Julie Mundy, Melbourne, Australia
---
The views expressed by contributors to this discussion are not necessarily those held by go4awalk.com.
Add your comment to THIS article | Start a NEW Discussion
---
---