Use it or lose it - how can we stem the demise of the rural pub?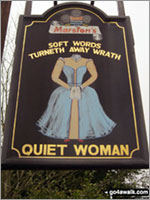 One of our users (very kindly) recently let us know about the demise of The Red Lion pub in Myddle, Shropshire.
Rural pubs seem to be closing at an alarming rate these days.
We can only assume that there's just not enough custom to make these businesses viable . . . and yet pub walks - and the notion of a traditional pub as a welcome port-of-call mid-way round the walk or at the end of a long day in the mountains seem as popular as ever.
However, it does feel like the days of the welcoming rural hostelry will soon be a thing of the past.
As Robin (who reported the Myddle closure) points out "use it or lose it"
So we were wondering what would make these rural pubs more popular again?
If you have any suggestions about how rural pubs might make themselves more popular with walkers - or can think of things that country pubs could offer you other than beer, crisps and the constant twitter of fruit machines then let us know.
For some great pub walks see Walks from UK Pubs and Inns
We look forward to hearing from you.
---
"First I have to say there's no "one size fits all" answer. If there's a pub down the road doing really well, the answer is probably not to copy their formula, differentiate, at the very least copy but do it better.

The Old Horns in High Bradfield is always busy, even in poor weather, midweek lunchtimes. Their secret is unbelievably low prices for meals, remarkably quick service. Part of the deal is that they do really want you to vacate your table once you've finished, their success is based on high turnover. Although tied, fortunately they do have decent beer and are located in an historic village with great views.

Looking at other rural pubs we visit, a major factor in success is good but affordable food. Those that don't do so well are trying to be more up-market, competing with restaurants. Then the food prices are high, service "better" but slower and the result is that diners occupy tables for too long.

I understand that even the smallest branches of the big fast food companies like McDonalds, KFC are closed down if they don't achieve annual turnover of £750k - maligned though they are they do provide a reliable, consistent level of quality and availability. (Average pub turnover is more like £250k). What can the pubs learn from that? The pubs may have the disadvantage of being further from large concentrations of population but do have more scenic locations, historical buildings, atmosphere and a license to sell alcohol. Some try to sell carbonated drinks at the same price as beer. That's a mistake.

Another issue for walkers is that some close or stop selling food after 14:00/14:30. If they can't provide a full menu through the afternoon why not switch to a simpler afternoon menu: soup, sandwiches, tea/coffee and cakes. One pub I frequent has a mini-fridge on the counter with fresh locally made pork pies available all day with minimal staffing impact.

Some need to be a bit less precious about muddy boots, if your best potential customers are walkers, cope with it. Change your antique hand-made persian silk carpets for something more practical!

Make proper full use of your pub website, I'll not give a full breakdown of that as I have a vested interest as I sell a "country pub internet package". Too many pubs get their internet presence completely wrong. An example problem: I emailed a suitable pub a week ahead of a proposed visit to check they could accommodate our large group. I got no response. Not even a "sorry we can't help". The implication is that they don't check their email. Result: they missed out on not just a couple of hundred pounds of business but also the opportunity to provide a level of service to a sizeable group with high disposable incomes and who may recommend the pub, return with friends, perhaps for a more expensive dinner. Also we found an alternative pub and next time that will be our first choice of venue.

Many pubs are historic coaching inns and it is natural that they should have provided postal services. If I recall correctly The Old Nag's Head in Edale has a historic relic in the form of a small post office counter. So many country villages are losing or have lost post office, village shop and pub. Maybe we should look back in history, could a country pub in a village without a shop provide that additional service?

I just hit an example of "how to get it wrong" I was trying to check my facts about The Old Nag's Head in Edale - and found their single page website featuring a tiny map showing the location of a different pub (in Oldham)! Luckily they do also link to a correct Google map location. (NB. For walks from The Nags Head in Edale see Pub Walks, Routes & Maps from The Nags Head, Edale. Ed.)"
Rob Hindle, Sheffield
---
"Could be more to do with current economics rather than the amount of footfall. Perhaps routes here could highlight some Pub options (we do - see Walks from UK Pubs and Inns Ed.), perhaps strike up some deals with landlords discount codes etc if indeed it is the amount of traffic."
John Drysdale
---
"Could more of them provide proper afternoon teas, although many do serve tea or coffee the cakes/scones (but not with the spray on cream - yuck!) to go with them would be nice, especially as I believe the food if good, is where their profit is these days and many people limit their drinking due the drive home after the post walk refreshments, the walks often finishing too early for an evening meal."
Anon
---
The views expressed by contributors to this discussion are not necessarily those held by go4awalk.com.
Add your comment to THIS article | Start a NEW Discussion
---
---