Winter Walking in Snowdonia - mountain rescue services stretched to the limit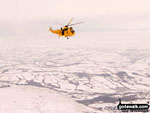 The almost Alpine conditions we're experiencing currently throughout the UK have, for some, increased the attraction of high mountain winter walking in areas such as Snowdonia, The Lake District and The Brecon Beacons. And whilst for many this makes for some truly exhilarating days out - for others the outcome is not so great - and in some circumstances what was envisaged as a fun day-out can end in tragedy.
The 2009/2010 winter season has already seen extended periods of exceptionally cold weather and in many walking areas this has stretched "to the limit" the resources of mountain rescue services.
The helicopter crews from RAF Valley support the RAF Mountain Rescue Teams (MRT) based at Kinloss, Leuchars, Leeming and Valley. Typically each of these MRTs has 8 full-time members plus up to 30 volunteers - all of whom are serving RAF personnel.
So far this winter, these helicopter crews have responded to a record number of call-outs to help in snow/ice conditions that would otherwise have made it impossible for MRTs to reach the casualties. Over the Christmas 2009 period, there were seven during one 24 hour period in Snowdonia.
Perhaps surprisingly, the call outs are often to help relatively experienced walkers and climbers who have been overcome by extreme weather conditions or have had a trip or a slip that - in more benign conditions - may have been less serious but in snow and ice results in a long, dangerous fall.
However, there are also incidents involving people who are dreadfully ill-prepared, or start out on a trip that is beyond their capabilities at this time of year. Here are just two of many examples.
"A few days ago this crew airlifted two stranded walkers off the freezing mountain - they were dressed in little more than tracksuits and trainers," said a member of the RAF Valley helicopter crew when describing two sets of walkers who were trying to climb Snowdon in poor weather.
Describing one of a number of New Year rescues (this one involving two walkers who decided to go off a main path at The Devil's Kitchen off Cwm Idwal in the Ogwen Valley) Chris Lloyd, of the Ogwen MRT commented, "They were not very well-equipped. They had ordinary town boots on, not proper mountain boots, and no ice axe or crampons or spare clothing for winter conditions." In this case, the walkers had to be taken off the steep ground by helicopter as six members of the Ogwen Valley Mountain Rescue Team waited nearby.
In a bid to reduce the number of these incidents, the Mountainsafe campaign was launched last year. Mountainsafe, a joint initiative involving North Wales Police, the Snowdonia National Park Authority and the North Wales Mountain Rescue Association, aims to provide guidance and navigation training so that hill walkers can enjoy themselves safely . . . and in so doing reduce the strain on all the rescue services.
Another factor to take into account is that in the current snow conditions there is a real risk of avalanches. See here for important information on avalanches - what they are, why they happen and what to consider when assessing the risk of a walking trip in snow conditions.
Do not venture out in the high mountains (at any time of year) without checking on possible weather conditions - a visit to the UK Met Office's Mountain Forecast service is an excellent place to start.
See here for information on how to prepare more generally for winter walking
See here for more info from the BBC on New year Snowdonia Mountain Rescues.
---
"I was in Wasdale just after Christmas. Snow and ice higher up. I was coming down and met a group of walkers - not young, decent jackets, and they had rucksacks which perhaps contained useful things. However no ice axes. I would not have gone up there without an axe. They said, what's it like higher up ? I said, OK in the soft snow, but be very careful if you get on to wind slab or ice - very slippery, and you could slide a long way. What else can one do ? I certainly would not want to restrict people going out. Maybe the mountain rescue people should have a bit of a temporary information board in the car park, manned by a knowledgeable person. However of all people it is probably anathema to them to preach !"
Keith Eyles, Stroud
---
"My preferred area is the Lake District but the same goes for any remote or mountainous area.

I'm afraid that many moons ago when I first tried out walking the fells and mountains with friends, I was one who, even back then, would have been considered woefully ill prepared and equipped. However, I was (thankfully) one of the lucky ones that managed to get away with it. Also when the weather caught us out it ended up being a very cold, wet and miserable experience.

Now I have started walking more seriously, I have all the right gear including good winter boots, ice axe, crampons etc. The right clothing makes a huge difference in any weather and I now stay warm, dry, safer and altogether more comfortable.

Cell phones have been mentioned already (I wonder what these people do when there's no signal), but I've also seen people relying solely on a GPS device. Not good. I have one too and it can be very useful, but I never leave home for the fells without my trusty route map and compass. Also in freezing conditions batteries can die very quickly so spares are essential. A map and compass doesn't need batteries.

Having said all that: You also have to know how to use the equipment you have.

All those years ago it is more than likely that many experienced walkers pointed at me and said "look at that idiot - crazy!" No more though.

I'm one who has learned. And I did that a long time ago.

I suppose there will always be idiots on the hills but if their numbers can be reduced (preferably through education, not tragedy) it will be better for us, better for them and better, not least for our dedicated but extremely overworked MRT's.

These people do a fantastic job and all voluntary too. I have the greatest admiration for them, but I hope I never need them.

I don't want to put people off, but maybe Allan Hartley is right. Perhaps the media should show some of the darker side. If people are not going to avail themselves of all the free information available over the internet and many other sources, then put it on TV. It's not all Mrs. Tiggywinkle and Squirrel Nutkin up there. It can get very nasty, very quickly, especially in winter.

Have fun, enjoy the mountains and the splendid views, but please, do it responsibly.

I love the "sense of direction" quote from Philip Mitchell - Classic!

A final point: Accidents can happen to anyone, even the best prepared of us, but the right gear and knowledge can reduce the likelihood considerably."
Tim Hope, Lowton
---
"Does not surprise me. Over the years I have come across a few unprepared hill walkers that have needed assistance. My favourite quotes from these people are:

[After] Being rescued because lost, when asked why they had not carried a compass or map they answered "I did not think we needed them as we have a really good sense of direction."

Two people suffering from hypothermia after climbing to 3000ft in the winter because all they were wearing was a jumper on asking them why they had not worn better clothing their reply was "[I] did not think I need any after all its not Everest we were climbing was it!""
Philip Mitchell, Manchester
---
"When will these people learn? You see it more these days than I did in my younger day. Perhaps the wrong message is getting put out by the many TV programmes. People seem to think that mobile phones and the like is all you need these days and there will always be someone around to get them out of trouble. Perhaps the media should show more of the grim reality of what can happen."
Allan Hartley, Stalybridge
---
"I walked on Carreg Hir near Caersws in Powys - having walked through powder snow and bypass snow drifts on the approach roads. Llyn Mawr was completely frozen. The west escarpment of the ridge of the hill had deep snow drits. The panaroma views of Cadair Idris, The Arans, The Berwyns were stunning. I had full winter walking clothes and equipment and have walked in this area of Wales many times. However it is remote and on this day I met only the friendly locals."
Chris Toms, Shrewsbury
---
The views expressed by contributors to this discussion are not necessarily those held by go4awalk.com.
Add your comment to THIS article | Start a NEW Discussion
---
---