Is Naked Rambling an expression of freedom or just plain offensive?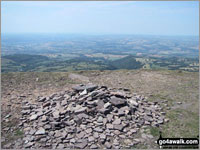 On Sunday I was walking in the Black Mountains area of The Brecon Beacons National Park and met a naked rambler.
At least, I assume that's what he was as he had only the top half of his clothes on. It wasn't very warm which might have been the explanation for his top half being clothed.
I was with someone else at the time but as a woman I think I might have found this a bit more than eccentric had I been by myself.
I do walk alone occasionally and I kind of wonder what's the difference between this and the flasher in the park (apart perhaps from motivation, though that's a moot point in itself)?
What about people walking with children?
I'm sorry to say that we ignored his under dressed state and had a brief exchange about the view (which was lovely - great visibility) and we didn't ask him why he had no trousers on.
I'd be interested to hear if other people have met naked ramblers and what they think about it.
---
"It's a shame some contributors to this discussion are so censorious of naked rambling. On a fine hot day in the hills it's a glorious feeling to walk clothes-free for a while and experience the sun and the breeze on your whole body. It's healthy and natural, and is neither indecent, illegal or exhibitionist. Why on earth would anyone take offence at seeing others enjoying a natural experience? Fortunately most seasoned walkers are not prudes and treat a naked fellow-walker with equanimity. Of course, any walker should be prepared to cover up if it's obvious that someone will be upset. The motives of the walker who covered only his top half may be suspect, but that shouldn't affect your response to genuine naturist hikers."
Chris Lamb, Beckenham
---
"Why are these people allowed to offend other walkers in this way. Surely this is an offence.

They are disgusting horrible people and should be locked up. RAMBLER"
Colin Smith, Oakworth
---
"I think that either clothed or naked is OK and as a Naked Rambler myself I would never approch someone half dressed (esp the top half!). I carry cover-up shorts and use them if I see someone approaching although I have encountered clothed walkers without time to cover myself. However I find a cheery good-day and a smile are all you need. After all, I am simply doing what they are doing but without the restriction of clothes and, what is more, I feel that if it is warm enough Walking in nature is lovely wearing just my shoes and cap! It is not illegal either."
Ian Brown, Gravesend
---
"As a beach naturist who is used to seeing naked bodies some of the comments I do not agree with though I can empathise with most of them. Firstly most naturists (except a few exhibitionists) do feel that nude rambling is not appropriate. Having said that providing due care and consideration is taken to only do it in quiet places where you can dress quickly if you see people approaching it really is not harming anyone. Personally though I enjoy beach nudity I do think that it should be kept to a few designated places, where sun bathing and swimming are the main activities.

As non-nudists however you should perhaps attempt to understand why nudists do it. It is not just to show off or offend. The fact is that relaxing in the nude is simply so much nicer than relaxing with your clothes on. Until I tried it on a Cretian beach I never understood that.

Ask yourselves why you find the site of a naked person offensive - basically it is prejudice and something which you are not accustomed to. The law is vague in this area unless genuinely lewd behaviour is a factor; merely being naked is not of itself lewd unless you can prove there is a genuine intention to offend."
Gordon Eve-Tatham, Liverpool
---
"If he was totally naked, apart from proper footwear of course, I'd have excused him as a cranky, naturist, naked rambler, but just the bottom half naked??? That would definitely worry me. Either you need clothes or you don't. I'd have reported him. Naked rambling is just self indulgence and imposing one persons values on the majority of others who don't like it. It's not a freedom it's arrogance. I don't think proper naked ramblers fall in to the classification 'flasher' nor 'pervert' just a little laughable and quite sad. If you want to go naked go to a naturist centre or beach."
Carlo Gilmour, Horsham
---
"Sounds a bit odd to me and surely not really in the spirit of naturism if he was still half clothed. If he'd really wanted to half commune with nature why not choose the top half and not offend? Although I did find the comment about them not being svelt amazons funny. So are you saying its not offensive to be naked on a hill if you're worth looking at? I'm guessing as a man I'd have a problem making a statement like that about naked female ramblers."
Ian Middleton, Oxford
---
"I think I would have found this quite disturbing if I had come upon this 'gentleman'. Funny if it was that cold, wouldn't you think that he'd have covered the bottom half?? Just a thought!"
Colette Collopy, Castleford
---
"The incident should have been reported to the Police. The man could have been suffering from mental health problems, even possibly missing from home or some institution. Either way, the authorities would certainly have appreciated the reported sighting."
Mike Starkey, Leeds
---
"This man is just a wierdo - not a naked rambler, he should be reported for indecent exposure. It must have been quite a nasty incident really. If it was cold he would have been better keeping his trousers on, and just baring his chest! Definitely something wrong, if he is spotted again he must be reported."
Peter Griffiths, Worcester
---
"Firstly this man's actions were unacceptable and he could be charged by the police for indecent behaviour if a complaint were to be made. There's nothing inherently wrong with naked rambling but there is a code of conduct which is observed by naturists. Basically it's that on approaching 'textiles' (I believe that's the term for clothed people regardless of age) cover up."
Jeff Warlock, London
---
"Its offensive. Its borderline indecent exposure and blatant exhibitionism. Its unacceptable. The few individuals who do this are inept perverts. They are seeking a reaction and getting a thrill. Presumably a very small one. Plus why are they never tall, striking, sveldt, amazonians with buff bodies? I really dont want to see middleaged chubbies wobbling their bits in the wind off the Beacons. Report them if seen and make a copper's day."
Jeremy Bolwell, Ludlow
---
"This practice is just flashing by perverts and is simply offensive! Lock them up!"
D Heywood, Hull
---
The views expressed by contributors to this discussion are not necessarily those held by go4awalk.com.
This discussion thread is now closed. | Start a NEW Discussion
---
---