Romans back on Lake District's High Street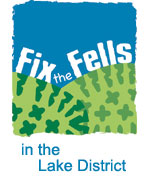 . . . well strictly speaking it is Roman road mending techniques as 'resurrected' by the Lake District National Park Authority as part of the Fix the Fells project.
In this case, the technique the Romans used originally to surface roads such as High Street has been employed to repair erosion from Mardale Ill to High Street and on the Lakeshore at Buttermere.
High Street is the most elevated Roman road in England reaching just under 800 metres above sea level at its highest point. Whilst there are references to it in literature throughout the time since Roman Britain, it really became popular during the 19th century as a path for peat cutters.
In the modern era it is one of the most popular walking routes in the Lake District.
Inevitably this means that erosion of the path is periodically a problem which is why it has been included in the Fix the Fells project.
Drainage and stability were key goals of Roman Road engineering. So wherever possible they would dig down to the bedrock and then refill the trench with layers of fill - often adding clay and lime - before finishing with a top layer of gravel.
This top layer was sometimes mixed with iron waste which gave rise to the term 'metalled' road.
The end result was a hard wearing surface with excellent water drainage characteristics.
The work being undertaken on High Street is focussed on digging down to bring the lower lying material to the top - of course these latter day ' legionaries' have the benefit of digging machinery to help them and some of the finest outdoor gear available to protect them from the elements.
The original builders of High Street had to rely on picks, spades and brawn - and not a lot to protect them from the howling gale blowing up the mountain pass.
For more information see:
If you want to . . . er . . . roam (sorry) on High Street yourself - see Walk High Street
If you want to visit Blackstone Edge (another famous Roman Road) see Walks on Blackstone Edge
---
The views expressed by contributors to this discussion are not necessarily those held by go4awalk.com.
Add your comment to THIS article | Start a NEW Discussion
---
---