Galileo - a GPS system for Europe - some good news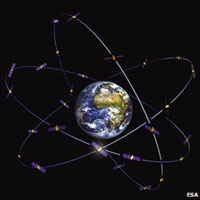 Despite some short comings, many walkers now find that a GPS device can be an exceptionally useful navigational tool. So it's interesting to hear that Galileo, Europe's own version of the US Global Positioning System, received a welcome and unexpected boost recently.
In a surprise announcement at the June 2011 Paris Air Show, Antonio Tajani from the EU Commission, announced that 500m euros were now available to fund the purchase of six additional spacecraft for the system. The additional funds are available because of cost cutting by the industrial partners (who are building the infrastructure) and from an improvement in overall project management.
Whatever the reason, this must be welcome news to the EU governments who have already funded the project to the tune of 3.4 billion euros with further investment needed before the end of the decade to complete the full satellite constellation.
Galileo will provide independence from the US Pentagon controlled Global Positioning System. However, it's also seen as important in allowing European businesses to compete in the growing worldwide market for satellite communications. Beset by a variety of political and organisational difficulties, Galileo is now expected to be operational by 2014/2015.
The technology is designed to offer improvements over the existing GPS. In particular it will address current difficulties in getting a fix and in accuracy (which can be +/-10m or more with the current GPS). Galileo should offer accuracy down to a metre or less and significantly greater penetration in towns, in buildings and under trees plus improvements in the time taken to get a 'fix'. There will also be be inter-operability between Galileo and the US system which will mean that users will be able use either constellation.
As well as the standard, civilian service, Galileo also provides a paid Commercial Service plus a Public Regulated/Safety-of-Life Service (PRS/SoL) for use by security agencies and safety-critical transport applications such as air-traffic control, automated aircraft landing. The PRS/SoL will include additional robustness against jamming and improved detection of problems.
The first two Galileo satellites are due to be launched this October using a Soyuz rocket launched from Kourou in French Guiana. It was expected that 18 satellites would be in orbit by 2015 .. but the additional funding may mean that additional satellites will be available taking Galileo closer to the 26 planned for its full constellation.
Despite last month's good news, doubts remain about the ongoing financial viability of Galileo particularly in the light of competing systems planned by Russia and China.
To find walks with GPS Waypoints you can download from your computer and upload into your GPS Device see Walks with GPS Waypoints and GPS Data
---
The views expressed by contributors to this discussion are not necessarily those held by go4awalk.com.
Add your comment to THIS article | Start a NEW Discussion
---
---