Environment Agency harness 'Llama-power' to transport UK's rarest freshwater fish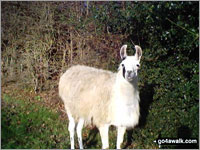 If you go walking on Seathwaite Fell in the Lake District you may see ..... Llamas!
Renowned for their sure-footedness, llamas were recently the transport of choice to re-locate over 25,000 Vendace (Coregonus vandesius) to their new home in the Lake District's Sprinkling Tarn.
The Tarn, inaccessible by car, has water cool enough to enable this endangered species of fish to thrive.
Eggs were removed from fish in Derwent Water. After hatching in a fishery, the young fish were then transported (on the llamas) up to the shore of Sprinkling Tarn at an elevation of 598 metres, on Seathwaite Fell, north of Scafell Pike and east of Great Gable. Fisheries staff accompanied the llamas on foot and transferred the fish to the Lake.
Vandace used to be found in two Cumbrian lakes - Bassenthwaite and Derwent Water. In recent times, though, it has been found only in Derwent Water. It's suggested by the current Environment Agency team that its demise in Bassenthwaite has been caused by the warming effects of climate change.
Andy Gowans, Fisheries Technical Specialist for the Environment Agency, said:
"By introducing these Vendace into Sprinkling Tarn, where water temperatures will be lower, it will provide an additional element of safeguarding for this endangered species."
However, it's also possible that competition from non-native fish species, pollution and the build-up of sediment may also be the cause of the Vandace's problems.
Commenting on the situation in 2008, Cameron Durie, also an Environment Agency technical specialist said:
"The loss of Vendace in Bassenthwaite Lake is down to a number of reasons. They've suffered from competition and egg predation from illegally introduced fish species as well as nutrient enrichment of the lake from agricultural run-off and sewage.
"But the final blow is sediment that has come into the lake - we consider this to have been the most damaging factor in its decline."
"Eggs laid by the fish in the early winter months have become smothered by sediment before they have had chance to hatch the following spring. We have tried various techniques to help the Vendace survive but unfortunately none of them have worked."
Hats off to the novel use of Llamas, but it's to be hoped that the problems in the Vendace's eco-system thought to have caused the Bassenthwaite population decline won't occur again in Sprinkling Tarn.
To see walks that pass Sprinkling Tarn so you can go and visit the Vendace yourself see Walks that include Sprinkling Tarn.
---
The views expressed by contributors to this discussion are not necessarily those held by go4awalk.com.
Add your comment to THIS article | Start a NEW Discussion
---
---