Walking in the Lake District - after the floods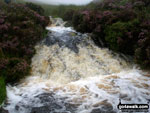 November 2009 is now officially the wettest November on record with an average rainfall across the UK of 217 mm. The previous highest record was 195 mm recorded in 1951.
Particularly heavy downfalls in Cumbria, Snowdonia and South-West Scotland have had a large impact on this average. It was at a weather station in Shap, Cumbria where the highest falls of 621.4 mm were recorded.
Not surprisingly, these weather conditions have had a huge impact on the entire infrastructure in Cumbria including the network of footpaths and information centres in the Lake District National Park (LDNP).
Mark Eccles, head of countryside services for the LDNP, in a statement issued on 1 December outlined what is being done as part of the 'Flood Fightback'.
"We are pulling out all stops to combat the worst effects of the devastating floods. A recovery group has been set up and is working hard to get services up and running again as soon as possible.
"We still haven't got a complete picture, but our field based teams are checking the safety of paths and putting up information notices where appropriate. Investigations show 144 bridges are damaged and at least 22 have to be replaced.
"There are also 21 paths where the surface has been washed away and we are advising walkers to choose routes carefully."
Whist it is important to be especially careful particularly on routes near rivers and on any bridges or river crossings, Mark Eccles has also made it clear that large parts of the footpath network are open.
"There are a huge number of routes open and the countryside can still be enjoyed. But we are saying plan ahead and take care, wear the right outdoor footwear and clothing, heed notices and where there is obvious damage, please keep clear."
It is never sensible to be out walking on lakeland fells without an OS map and compass - but particularly so now when it may be necessary to change your route if conditions demand it. And remember - these beautiful lakeland fells and mountains will be there tomorrow, next week and next month - so if necessary - turn back.
Up-to-date information from the LDNP on weather and fell conditions in the Lake District
Up to date mountain weather forecasts from the UK Met Office
---
"Allan is right. I visit Cumbria regularly in my job and the catastrophic flood damage we saw on TV was quite localised; it was nowhere near as bad as that in a lot of the area. I'm sure the tourist people will be able to advise on the best places to walk."
Chris Bamber, Manchester
---
"As a regular visitor and walker over the years to the Lakes, I hope that it will not be taken off peoples places to visit list this coming year, these people and the area as a whole needs our support as they did in the F & M crisis."
Allan Hartley, Stalybridge
---
The views expressed by contributors to this discussion are not necessarily those held by go4awalk.com.
Add your comment to THIS article | Start a NEW Discussion
---

---