Yorkshire Three Peaks project - walkers can now help stop footpath erosion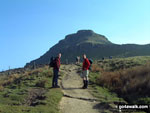 Whether you call it the 3 peaks of Yorkshire or the North Yorks 3 Peaks, The Yorkshire Three Peaks Challenge Walk from Horton in Ribblesdale (Walk ny101 The Yorkshire 3 Peaks ) is one of the oldest established walks in the UK.
Comprising Pen-y-ghent 694m (2277ft), Whernside 736m (2415ft) and Ingleborough 723m (2372ft), the walk is immensely popular with challenge event organisers and individuals alike.
Not surprisingly, the great popularity of the route is exerting an ever increasing toll on the footpath network. As far back as 1987, a study by the Institute of Terrestrial Ecology found that the paths in the Three Peaks area were the most severely eroded in the UK. This is not surprising when you consider that some estimate the area receives around 250,000 visitors a year.
Announced in April 2009 by the Yorkshire Dales National Parks Authority, the Three Peaks project has been established to ensure that this hugely popular area can continue to be maintained and improved in the long term.
The project was established against a background of increasing concern that despite the valuable efforts of the Dales Volunteers, it is becoming impossible to keep pace with the erosion of the local footpaths.
Speaking at the launch event held recently at the Station Inn at Ribblehead, National park chairman Carl Lis said:
"We would like to create a sustainable source of both practical and financial support that will help protect and enhance the area and the rights of way network into the future.
The Friends of the Three Peaks have been created to provide a mechanism for individuals or organisations to commit to longer-term support for our work in the area through annual donations. These will help fund an extra ranger, whose main job is to be out on the fells keeping the busy paths in good order."
As well as providing essential funds, 'Friends' will also be able to get involved in some of the maintenance work and participate in a range of other events.
---
The views expressed by contributors to this discussion are not necessarily those held by go4awalk.com.
Add your comment to THIS article | Start a NEW Discussion
---
---