Camping Holidays in UK during Summer 2009: surge in popularity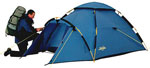 Nearly twice as many of us (30%) are thinking about a camping, caravanning or motorhome holiday this year compared to the numbers taking one last year (17%).
These are the findings from a survey conducted by travel insurer LV during April 2009.
This is also borne out by data published recently by The Camping and Caravanning Club that, by end of April, had seen 38% rise in bookings compared to 2008.
Robert Louden, Director General of the The Camping and Caravanning Club, said recently:
"There has been a real upsurge in interest in camping since the turn of the year and there really are so many reasons for Britons to holiday at home this season.
"Even the weather seems to be rallying to the cause of UK tourism, with the Met Office forecasting a barbecue summer of above-average temperatures."
However, it may not be all good news for Clubs and other owners of campsites - or indeed for landowners. The LV survey also showed that nearly a third of intending campers were planning to ignore the benefits of formal campsites, instead opting to 'wild camp'.
Many were choosing this option in the mistaken belief that it's possible to camp where ever one likes. This is not the case in England and Wales where - although it may be tolerated in more remote areas - legally you must have the permission of the land-owner. In Scotland the situation is different, where recent (2005) legislation does permit 'responsible' wild camping on hill land.
For more information on wild camping see here.
For more information on walks from campsites see here.
For more information on the camping survey data see here
---
The views expressed by contributors to this discussion are not necessarily those held by go4awalk.com.
Add your comment to THIS article | Start a NEW Discussion
---
---