Olloclip 3-in-one Photo Lens for iPhone and iPod Touch
Product Review & Walking Gear Test



3-in-one Photo Lens for iPhone and iPod Touch





Vital Statistics:

SRP:
£69.00
Features to Note:
3-in-1 lens system for iPhone
Fish Eye (180 deg field-of-view), Macro (focal distance of 13mm) and Wide-Angle (2x viewing angle) lenses
Kit includes 2 lens caps plus a microfibre bag
Versions available for iPhone 4, iPhone 5 and iPod
In-use Test:
The Olloclip is an attachment that fits over the camera on your iPhone or iPod Touch that coverts the standard lens to a fisheye lens, wide-angled lens or macro lens for extreme close-ups. It is small and light and comes complete with lens caps and a little soft case to keep it in.
We tried out the Olloclip 3-in-one Photo Lens for iPhone on an iPod Touch (using the supplied adapter) and found it works extremely well. The Olloclip slips on and off the main body of the iPod very smoothly and the snug fit means it feels nice and secure with little danger of it falling off 'mid-shot'.
Here are the results:
Shawbury Church using the standard iPhone Touch Camera
Shawbury Church from the same position using the Olloclip Wide Angle Lens
Shawbury Church from the same position using the Olloclip Fisheye Lens

NB. None of the above pictures have been 'photoshopped' and were taken less than 1 minute apart at aboout 8.50pm on a sunny July evening. Note how the greater depth of view enabled by the Olloclip seems to change the exposure settings on the iPod camera.
Some flowers in Shawbury Churchyard using the standard iPhone Touch Camera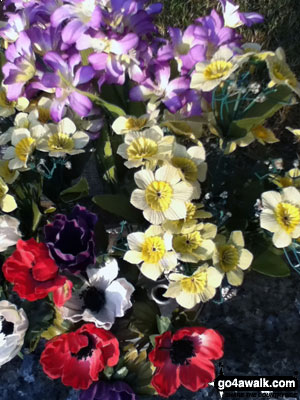 Close up of one of the flowers in Shawbury Churchyard using the Olloclip Macro Lens

The Olloclip Macro lens does enable your iPhone/iPod to capture details remarkably close-up.
All in all the Olloclip is an excellent bit of kit that gives your iPhone or iPod touch camera much greater flexibility. It is small, lightweight and easy to carry. It slips on and off your device quickly and easily and is nice a sturdy. It works in both 'still' photo mode and 'video' to allow you to be more creative. However, it does not improve the quality of your iPhone or iPod camera and is no substitute for a dedicated SLR with interchangeable lenses.
There is an iPhone 5 version and an iPhone 4 version but they are not interchangeable - so if you are thinking of updating your iPhone, do this first before investing in the Olloclip.
At the time of writing (July 2013) the Olloclip is only available for iPhone or iPod and not availble for Android or Blackberry devices.
---
What do you think?
Have you got a Olloclip 3-in-one Photo Lens for iPhone and iPod Touch ?
We would love to hear what you thought of it - good, bad or indifferent. Perhaps you simply disagree with the verdict above - or feel an important feature has been negelected.
Let us know by clicking this link - What I think of Olloclip 3-in-one Photo Lens for iPhone and iPod Touch - so we can publish your important views below.
---
• This is indeed a great addition to the Ipod5, and significantly enhances the camera capability of the phone or IPod. The macro in particular is amazing, and photo taken with it for the review doesn't do justice to the quality that can be achieved close up. However, it does have a few limitations. It doesn't fit if the phone has a cover of any sort, so this has to be removed before the lens can be fitted. Also, it is claimed that it won't fit a phone if it has a screen cover, although I've not been able to test this (my phone doesn't have one!). Also, one of the lens covers is a bit loose and comes off easily, but this is generally not a problem it the unit is kept in the small cloth bag provided.
Happy Trekker , Wolverhampton
---
---