How to see a cloud sea - or Temperature Inversion
The Met Office have recently announced their prognostications for the winter of 2008/2009 and they're saying that it will be a bit colder than 2007/2008.
Other weather commentators are saying that due to various things too complicated for me to explore here, the winter is likely to be much colder than normal, but fairly dry.
This is good news.
Many people will have entered in to walking since we last had a 'proper' cold winter (like wot we used to have when I were a lad) and many people will not have witnessed the sheer glory of walking along sunny ridges above a sea of fluffy white clouds, with hills sticking out like . . . er . . . things sticking out from a sea of fluffy white cloud - aka a Temperature Inversion.
Which is a shame.
This is something which you really must experience and something you'll definitely want to repeat if you already have.
Listen out for the key bits of information on the weather forecast which will presage a cloud sea (temperature inversion)
In these conditions, in the right place at the right time, the fog will stick in the valleys, trapped by a layer of warmer air up above. In the valley it will be cold and icy and, frankly, quite miserable.
As you climb up your hill, you will gradually become aware that things are starting to look a bit brighter.
Then, suddenly, you will pop out into bright, probably quite warm sunshine
You won't want to go back down.
You will need to climb up a hill to see it – at least to 300 metres (1000ft) and, possibly up to 500 or 600 metres (2000 ft). But it's well worth the effort.
Watch out for those key words - High Pressure, Frost and Fog (though not hill fog, in which you will see nothing much at all!).
Lets all keep our fingers tightly crossed.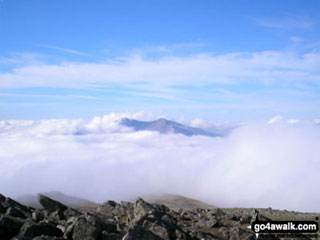 Glyder Fach and Glyder Fach poking out of a sea of clouds as seen from Carnedd Moel Siabod in the Snowdonia during a temperature inversion. Photo by Mike Knipe.
Click here to see some more examples of Cloud Seas or Temperature Inversions
---
© Mike Knipe. Mike Knipe is an experienced outdoor enthusiast, walk leader and writer who has worked with Durham County Council and English Nature (aka Natural England).
Other articles by Mike Knipe on go4awalk.com include:
The Art of Getting Lost . . .
How to start Peak Bagging . . .
How to sound like a walking expert . . . (writing as Gnasher the Dog) and
Is that a Mitt in your pocket - or are you just pleased to see me?
---
"This reminds me of one of my favourite walks ever. It was a February day in 2008. The mountain forecast said that visibility would be superb so I couldn't resist. I got up at 5:00am to drive for over three hours to walk from Ennerdale up Haycock. I had donned my thermals and set off to climb the frosty fells. By 10:00 I was above the clouds walking in bright sunshine and down to a short sleeved thermal t-shirt; coat and fleece stowed in by backpack. I was walking solo but met a group on Haycock who had walked up from Wasdale. It was wonderful, some people were throwing snowballs for their dogs to chase while asking if anyone had brought suncream! I then descended over steeple and into a Narnia like forest before walking beside Ennerdale back to the car just as the sun was setting. Magical!"
Christine Shepherd, Leeds
---
"I went up to Snowdon over the Christmas period to experiance a tempreture inversion... I was not dissapointed!"
David Wetton, Satfford
---
To add your comment to this article - click This Link.
We look forward to hearing from you.
---

---