What to wear for Winter Walking in the UK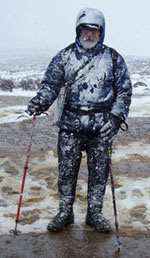 As Billy Connolly once famously said*, "There's no such thing as bad weather - just the wrong clothing . . . "
Whilst one might disagree with this to some extent, 'dressing for the weather' is a good way of reducing the chance of the weather ruining your day - and this is doubly true if your day's plans include walking during the winter months.
Low Level walking in winter
The main challenges are making sure you're adequately protected from rain and light winds, perhaps ice and less frequently some slight falls of snow.
High Level or Mountain walking in winter
A day's walking in the high hills during the winter is a different proposition and needs a very careful assessment of the conditions, your route plan plus the skills and experience of you and your companions.
Wind, snow and ice will be much more significant factors when walking in these areas. And wind, in combination with either rain or snow, can make even simple tasks extremely time consuming - and energy sapping.
Effects of weather when walking
Scottish hills and mountains may have significant snow for a lot of the time during the winter months. And this can persist well into Spring. In the Lake District and Snowdonia, snow may be less prolific - and less consistent - but conditions can change very quickly. There have been quite significant falls of snow in the Lake District and Snowdonia in recent years and it's not unknown for there to be warnings of Avalanches.
2008 Avalanche warning for those walking in the Lake District
Avalanches and winter walking in the UK
The priorities when walking in high mountain areas during winter are to ensure that you will be dry and warm throughout the trip and that your clothes can adapt to cope with changing conditions - in the weather and your body temperature.
A day's walking in high mountain areas will involve periods when you'll be expending a lot of energy (eg when ascending), periods of less activity or periods of rest for meal breaks. And of course you need also to consider those situations when the day doesn't go according to plan - for whatever reason - and you're out for longer and in weather conditions you hadn't anticipated.
By following the links below, you'll find information on a variety of topics useful when planning your clothing, footwear and accessory needs for winter walking.
Dehydration in Winter - yes it can happen
Do consider an Ice Axe (and crampons) when walking in snow or ice
Finally - access to good information on forecast weather conditions is crucial when planning any winter walking. The UK Met Office provide a Mountain Forecast Information service covering the West/East Highlands of Scotland, Lake District, Yorkshire Dales, Peak District, Snowdonia and the Brecon Beacons. You can find it here:
UK Met Office Mountain Forecasts
---
"I do love that quote by Billy Connolly you have there! He makes a good point! There's nothing worse than getting wet socks and knowing you have miles and miles to walk in them! Preparation is more important than people think!"
Scarr
---
---
---
To add your comment to this article - click This Link.
We look forward to hearing from you.
---
---