How to navigate with a map and compass - Invaluable walking hints, tips and advice for UK walkers, hikers and ramblers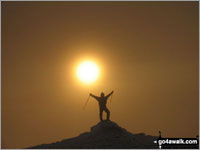 Good navigation skills using a suitable map and compass* (with or without a GPS device) can reveal whole new areas of the countryside allowing the average walker to leave the relative safety of the tourist paths and explore.
If you're just starting out, or just need a little help, then here is some basic info to get you started using your map and compass.
1. Firstly - Get to know your compass.
2. Next - Set (or orientate) the map. This is crucial so that you can relate what you see around you to the representation on the map:
3. Then - Understand your map - in particular The National Grid and how this relates to Grid References.
4. Learn some Basic Navigation Tips that will help you out 'on the hill'.
5. Remember, this is supposed to be fun - even the 'expert's get lost occasionally.
*Walking in the UK Hills and Mountains without a suitable map and compass is not recommended. See GPS - The Myths an Truths Part 1 and GPS - The Myths an Truths Part 2 for more information.
---
---
---
To add your comment to this article - click This Link.
We look forward to hearing from you.
---

---