The Yorkshire Three Peaks Walk - Getting There and Local Accommodation




STOP PRESS: IMPORTANT: The Yorkshire Three Peaks route was changed during the winter of 2012 after a number of challengers ended up waist deep in boggy ground. Instead of crossing Todber Moss, Black Dubb Moss and Red Moss, it now goes south of Hull Pot to cross Whitber Hill, Sell Gill Beck, Sell Gill Hill, Jackdaw Hole and Penyghent Churn to rejoin the original route on High Pasture. Our definitive route guide has been amended to reflect this change - so don't risk attempting this walk without all the latest route information.
---

STOP PRESS: GPS Waypoint Data in both GPX (.gpx) and Text (.txt) format now available for The Yorkshire Three Peaks Challenge Walk.
---

STOP PRESS: Our route guide now includes section timings (which take account of the fact that going up hill is slower than going down) so you will know whether or not you are on schedule to complete the walk within the required 12 hours. NB These timings have been adjusted to account for the new, slightly longer, version of the route established at the end of 2012.
---

STOP PRESS: We have been advised that the safety service run by the Pen-y-ghent Cafe has been temporarily suspended. The Clock Card service however is still available.
---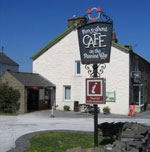 The Yorkshire Three Peaks Challenge Walk starts and finishes at the Pen-y-ghent Cafe in Horton in Ribblesdale, North Yorkshire. Horton in Ribblesdale lies north of Settle on the B6479. There is a reasonably large car park (charge payable) in the centre of the village but this soon fills up in the Summer months.
There are limited Bed and Breakfast accommodations in Horton in Ribblesdale and nearby villages along with a large flat Campsite within 200m of the start point. There are also a number of Bunkhouses offering cheap but basic accommodation nearby. All get very, very busy and you should make your reservations as early as possible to avoid disappointment.
Horton in Ribblesdale Railway Station is on the Leeds - Settle - Carlisle line and has a regular (albeit usually 2 hourly) train service. The train times vary and you should call National Rail Enquiries on 08457 484950 for the latest information.
You can walk the Yorkshire Three Peaks Challenge Walk route starting and finishing at either Horton in Ribblesdale Railway Station or Ribblehead Railway Station - both are on the route - and our Yorkshire Three Peaks Route Guide is specifically designed to enable you to do this easily. But if you do start from either of this alternative locations you will not be able to register with the Antique Clock Card Machine in The Pen-y-ghent Cafe - see The Antique Clock Card Machine
Good Luck and enjoy it (you will).
Remember, this is supposed to be fun (it is).
---



Download and Print our easy to follow route map and directions for The Yorkshire Three Peaks Challenge Walk from Horton in Ribbleshead and walk it for yourself
---
---