Post-it Note Scale
If you have purchased an Ordnance Survey Map from one of our partners - you may have received a white Post-It Note stuck to the inside cover with a scale marked in the top right corner.
At first sight, these numbers appear to be backwards. This is however intentional and designed to help you quickly locate a six figure grid reference.
For example, the 6 figure grid reference for the summit of England's Highest Mountain - Scafell Pike in the Southern Lake District - is NY215072.
---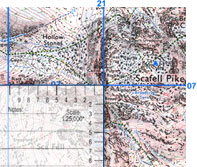 1. Place the scale on the Ordnance Survey Map with the top right corner at the point where the blue vertical '21' line intersects with the blue horizontal '07' line. (These numbers are located in the margins on the map and every 10 squares).
---
2. Now nudge the scale to the right so the '5' lines up with the blue vertical '21' line. Then nudge the scale up so the '2' lines up with the blue horizontal '07' line. The top right corner of the scale is now pointing at NY215072* - the summit of Scafell Pike.
The scale is sticky so it will not slide around - and has room on it for a few or your notes (like the grid reference). If you would like more copies of the scale, the artwork is available from this free to download pdf - but you'll have to supply your own glue!
*NB A 6 figure grid reference defines the bottom left hand corner of a 100m square. See Giving a Grid Reference for more details.
---

---