Hotels, B & B's (Bed & Breakfast), Pubs and Inns and Places to Stay for Walkers, Hikers and Ramblers
There's a whole world of hotel possibilities out there that we bet you never knew existed. With up to 50% off hundreds and thousands of rooms (courtesy of LateRooms.com) you'll find yourself amazed by all the choice . . . B & B's to Castles to Cabins to Hotels to Pub Rooms to Chalets.
And you will never, ever be charged a booking fee, whether you're going for business, pleasure, or just a decent night's sleep. Just book online or by phone, secure the booking with a credit card and pay the hotel on departure.
To find your perfect Place to Stay complete the Instant Search Box below.
Happy walking and exploring!
---
Self-Catering Cottages for Walkers, Hikers and Ramblers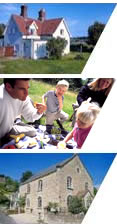 If you are looking for a place to stay then you have come to right place. We'll not only find you a great Holiday Cottage - but you'll SAVE 5% too!
We have teamed up with leading property provider Cottages4you to bring you over 9,000 different properties to choose from - whether you are planning Walks in the Lake District, Walks in the Peak District, Walks in Snowdonia or Walks in The Yorkshire Dales.
And for every cottage booked via go4awalk.com you'll GET 5% OFF the booking fee whether you choose from a cosy rural retreat for two in the Cotswolds, a family cottage for four by the sea or a manor house for you and 15 friends in the Highlands.
Alternatively take the ferry and experience the French way of life from your very own villa with pool on the Riviera or enjoy a pint of the 'Black Stuff' and the 'craic' on the emerald isle that is Ireland.
Find your Dream Cottage AND save 5% click here
You can Book Online
or by Telephone: 0845 268 0742
quoting 'PART05' to get your 5% discount
For some suggestions on How to choose the perfect Holiday Cottage see The co-operative magazine
---